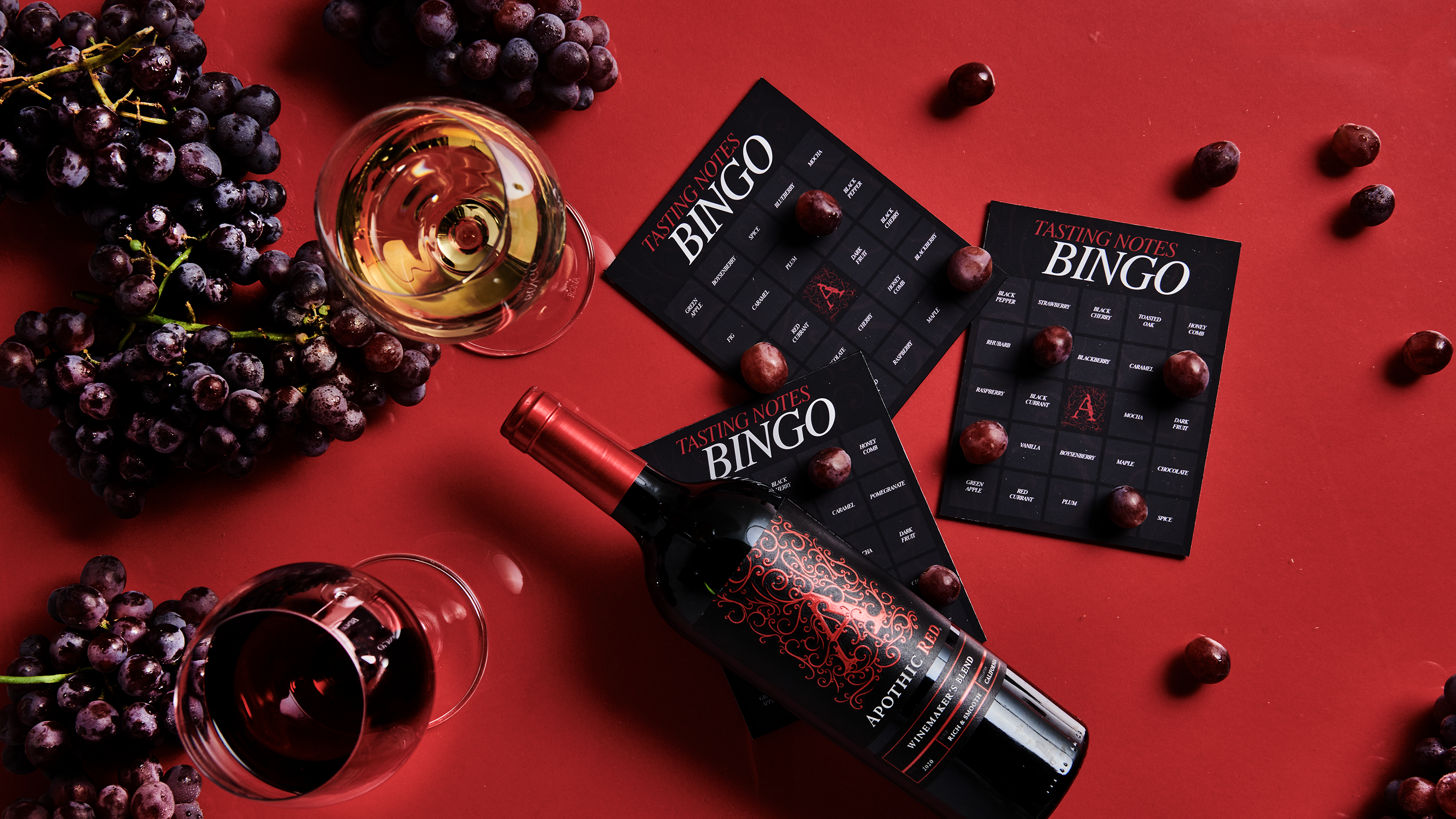 Put your taste to the the test. Apothic BINGO is here.
Don't get us wrong, we love a classic wine and cheese night, but sometimes we like to shake (or shall we say swirl) things up. Break out these Apothic BINGO cards the next time you host for an intriguing twist on wine tasting.

The boards cover three of Apothic's most popular wines: Apothic Red, Apothic Chard, and Apothic Cab. Try each wine and see which juicy tasting notes you can identify on the board, then check the tasting guide to see which ones you got correct! Don't forget to tag @apothicwine in your wine BINGO pics.

BINGO or not, reward yourself with a glass of your favorite varietal from the board- you deserve it with that immaculate taste palette!
1. Pick up a bottle of your favorite Apothic wine
The 2021 Apothic Red is our first daringly original blend of California-grown red grapes. Zinfandel leads the blend with silky layers of blackberry, black cherry with a hint of black pepper. Syrah and Merlot deliver undercurrents of ripe blueberry, boysenberry and a soft, plush mouthfeel. Cabernet Sauvignon adds more dimension with notes of black currant while bold tannins deliver a hint of intrigue. The finish is long and smooth with lingering notes of vanilla and mocha from the oak we selected for aging.
We apologize but this product can not be shipped to your selected state.
Our appealing Apothic Chardonnay opens with generous notes of crisp red and green apple, layered with hints of honey, caramel and vanilla. Viognier in the blend adds intriguing aromatic floral and tropical fruit characteristics. This luscious wine offers a silky-smooth texture and a bright, lively finish. <br><br> <b>Viticulture Notes:</b><br> We selected the majority of the grapes for Apothic Chardonnay from the unique Lodi Delta region in California. With its cool evenings and warm days, Lodi is known as a producer of fragrant, concentrated and silky textured fruit. California's 2021 growing season was cool and mild, with a heat spell in August that resulted in an earlier than average harvest. Wines showcase vibrant acidity and concentrated flavors.  <br><br> <b>Winemaking Notes:</b><br> We harvested a majority of the grapes for our Apothic Chardonnay at night in cool temperatures to preserve the character of the fruit. The fruit was whole-cluster pressed, then the juice settled and was racked to tank to optimize clarity and mouthfeel. The Chardonnay underwent partial malolactic fermentation and was fermented on selected oak with sur lie aging, enhancing the wine's delicate fruit flavors while adding subtle caramel, cream and spice characteristics. A portion of the Chardonnay and Viognier were fermented in stainless-steel tanks.
We apologize but this product can not be shipped to your selected state.
Our 2021 Apothic Cab brings a silky, elegant dimension to the bold characteristics of Cabernet Sauvignon. For this wine, we blended only the softest tannin Cabernet grapes with Zinfandel to bring distinct notes of blackberry and hints of strawberry. Layers of black cherry from the Cab meld with hints of rhubarb and spice with a subtle undercurrent of vanilla and mocha from a touch of oak aging.<br><br> <b>Viticulture Notes:</b><br> California's 2021 vintage experienced a cool, mild growing season with an accelerated heat spell in August, resulting in early ripening. Vintage 2021 in California shows vibrant acidity and concentrated flavor. <br><br> <b>Winemaking Notes:</b><br> We specially selected Cabernet grapes with the most intense fruit profile and the softest tannins. The fruit was destemmed with marginal crushing to gently extract color and tannins from the fruit. Portions of this wine oak aged for about 3-4 months to preserve elegant fruit character and impart subtle vanilla.
We apologize but this product can not be shipped to your selected state.
2. Download your Apothic Bingo Cards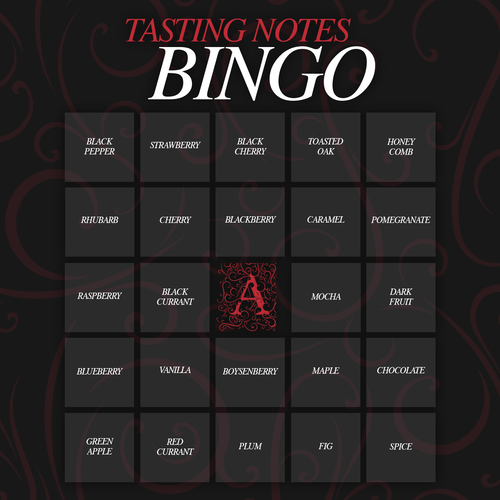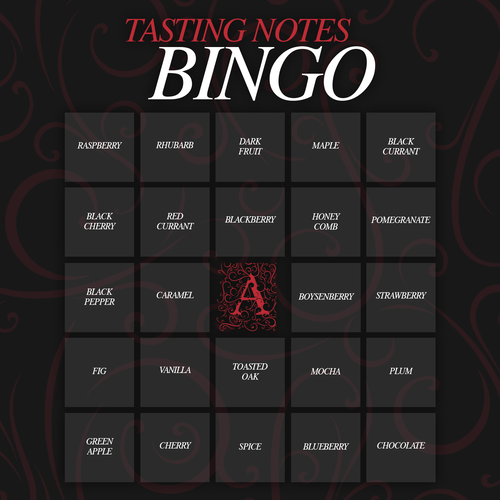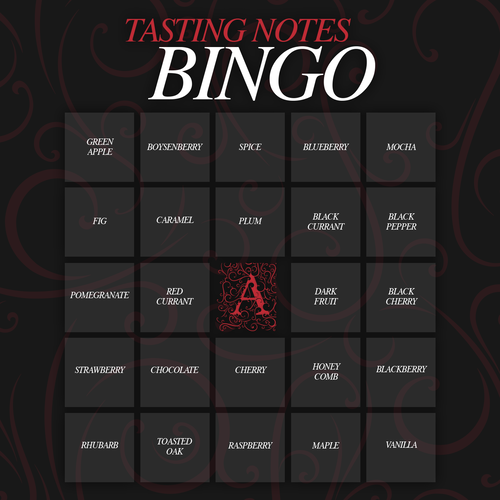 3. Put your taste palette to the test!
Did you get all the tasting notes right?